Getting the Rush tips: Keeping Scouts at Bay
Getting the Rush tips - by DomeX
Following up the Hydralisk vs. Protoss article, I thought it would be good to write a series of short articles to back up the build orders presented.  The first thing that new players should learn is to keep scouts away from your base and scouting your opponents effectively. This is an advanced skill, as it requires that the player is aware of two bases early game, when you're producing a lot of workers and setting up your buildings.
Anyway, scouts are usually workers that people send early game to get information of what you might be doing. Having this kind of information is crucial when playing Protoss and Terran, as they are not as versatile as Zerg and cannot switch builds very easily early game. That's the reason why most Zerg players just use Overlords for scouting instead of sending a worker. That being said, you have to remember that all workers move at the same speed, which is also the same speed for Zealots and Marines, and a bit slower than regular Zerglings. This means you'll have to actually micro  your units to catch one if they get in your base.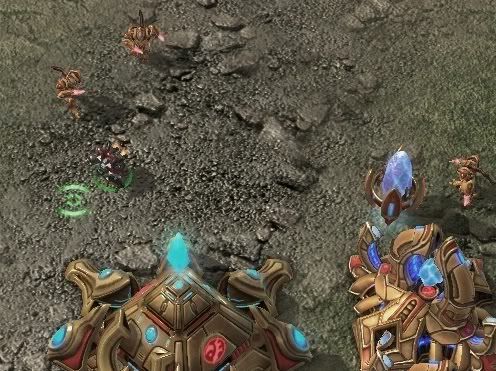 Those little bastards always get away.
Odds are you're getting a worker in your base whether you want it or no. What separates regular players from good players is the effectiveness in which they can kill said worker and keeping more of them away from your choke. Terran players excel at this, as it's almost standard that they wall with either 2 Supply Depots and a Barracks or 3 Supply Depots. Protoss players can do this to some point, but it's not really viable as they can't lift off Gateways (but apparently they can lift Ultralisks from the ground…) or hide Pylons underground.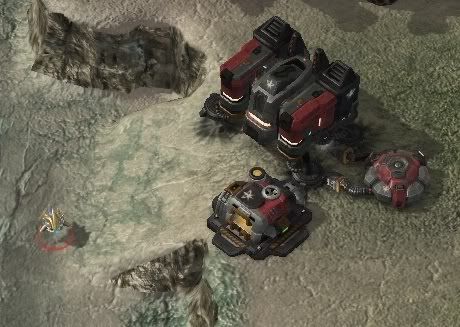 Not Pictured: happy Probe.
As a Terran player, you want to send your 8th or 9th SCV, depending on what you're planning to do, to build your first Supply Depot at your choke point. Most chokes can be blocked by 2 Supply Depots and a Barracks, but some others will need a bit more of work. When the first SD is finished, build your Barracks in the middle, and send a second SCV to build your 2nd SD. This allows you to lift off the Barracks in mid game to give it an add-on, and build a SD in its place to keep the wall up. Terran players have the advantage in this scouting phase, as SCV's are the most durable workers and can wall very effectively.
Protoss players will have a harder time preventing early scouts, but they are they have an advantage for this, as they can afford sending the 8th Probe scouting right after setting the warp rift for a Pylon without hurting the economy. You want to build your Pylon close to your choke, but not too much (pictured below.) Then, your Gateway should help in the making of a corridor, with a 2nd Pylon at the end. This way, you can have one or two Zealots sitting at the end of the corridor to prevent scouts, and even Zerglings if you're fighting a Zerg player. It might be a good idea for beginner players to also build a Forge and a couple of cannons behind the Gateway to give extra firepower against early rushes.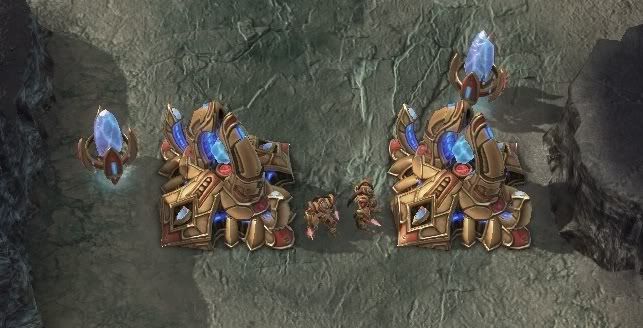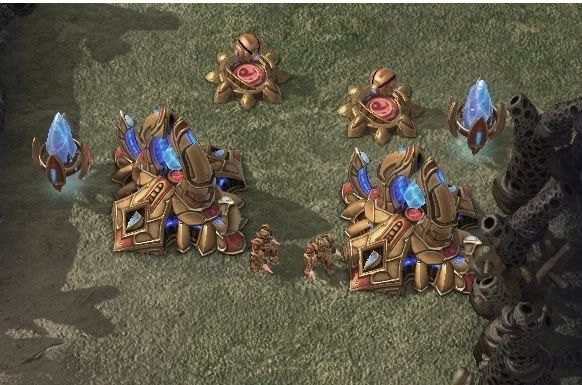 Zerg players have the hardest time preventing enemy scouts. The good part is that almost all Zerg builds imply 10-13 pool, so you don't really care about a very early scout. You will, though, when you start branching your build and go Roaches, Banelings or even Hydralisks and Mutalisks, or if you want to do a 7-8 pool rush. In the first scene, you want to create at least 4 Zerglings to chase and pin down enemy workers that attempt to enter your base, and have them sitting at your choke. The correct position for most maps is pictured below, but the bigger choke points will need some more work. You don't want enemy scouts after your pool is finished, as your Protoss and Terran opponents can't switch builds easily and you exploit this to your advantage (like building a Baneling Nest close to your choke and a Roach Warren in the back of your base).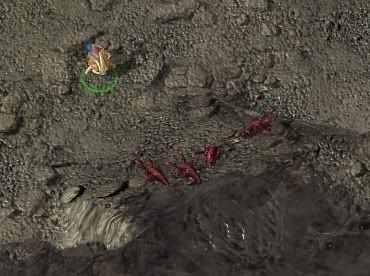 These Zerglings are doing it right.
This concludes today's entry for the Getting the Rush series. I hope you enjoyed reading this article, and as always remember to post, comment and rate me. If you have an idea of something you would like me to test or write about, don't hesitate to post here and I'll be sure to try my best to fill your requests.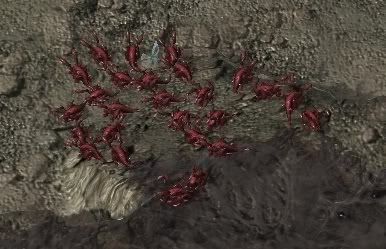 "Nope, not a single SCV got thro-" *Scanner Sweep*